Ugreen US133 Hi-Speed Micro USB OTG Adapter 0.1m Flat Cable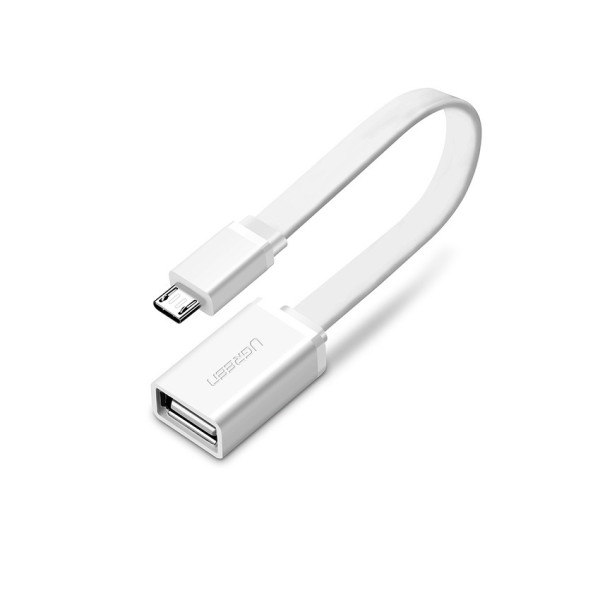 Features:
Are you still bothered by the complicated traditional data transform methods?
With Ugreen US133 Hi-Speed Micro USB OTG Adapter 0.1m Flat Cable, just connect your Micro USB phone from male Micro USB port and add the driver to female USB port, then you can send the files directly on your phone or tablets easily as a host.
Allows you to connect devices, like flash drive, card reader, mouse or a keyboard to your Micro USB OTG capable tablet computer or Smartphone directly at speed up to 480Mbps, controlling your device with a mouse and keyboard.
All in one, it offers a convenient way for quick and easy data reading and backup without host.
Notes:
Before purchasing, please search online to make sure your phone had OTG function
The host will be power output status when connect OTG cable, also do not support both OTG and charging at the same time
Watch movie from flash drivers directly is not suggested, it would be better to watch movies by copy file to host first
Support flash drivers format: FAT16, FAT32, exFAT, No NTFS!
For first-time user, please connect the cable to your set first, and then the USB device

Specifications:
Connector 1: Micro USB Male
Connector 2: USB A Female
Data Transfer: 480Mbps max.
Compatible: USB 1.1/2.0
Wiring: Tinned Copper
Material: Durable PVC
Supported Devices: All OTG supported with Micro USB

Length: 0.12m Flat

Color: White 10395
Package Includes:
1x Ugreen US133 Hi-Speed Micro USB OTG Adapter 0.1m Flat Cable (please select color above)