EAGET F60 USB 3.0 High Speed USB Flash Drive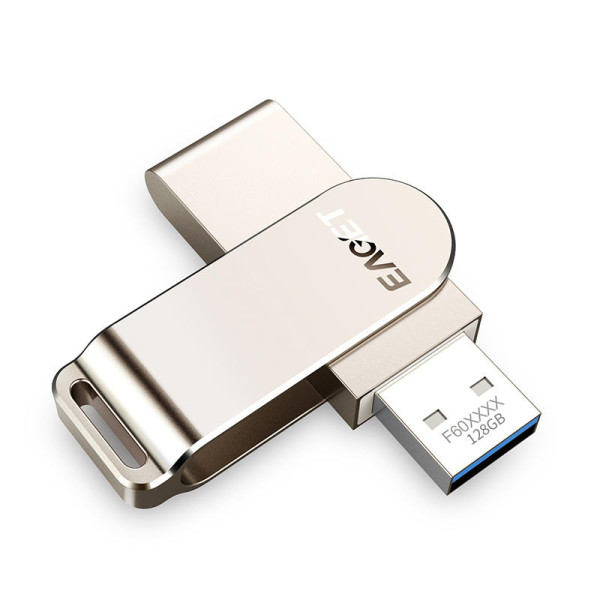 Slim and rotatable design - this mini USB flash drive gives you the ability to store your data throughout the day. This small, low-profile USB 3.0 flash drive fits snugly in your device's USB port, so you don't have to worry about that it will fall out or break. With a large ring, perfect for business or on-the-go, just takes it with you and stores whatever you want.
Features:
Small and Exquisite - Small size but large capacity, let you easily store important files!
Full Metal, Fine Carve - Zinc-alloy assembly as a whole natural, multi-process meticulous grinding of the indestructible.
360° Rotation Positioning - Get rid of the trouble of missing the cap, portable and easy to carry.
Safety and Shockproof - Adopt seal design, dustproof, magnetic proof, high temperature resistance.
Super Compatible - Support for external storage expansion of all computers and most TV, car, audio box and other equipment.
Use Original A-chip - With the original A-chip, data storage is more stable and faster.
Fully compatible - Compatible with multiple devices, supports Tablet PC, PC, car audio, Blu ray player and other USB interface devices.
Plug and play - so you don't have to worry about compatibility issues
It is a good choice as a Gift for your dear family and friends
Specifications:
Brand: EAGET
Model: F60
Interface: USB 3.0
Material: Zinc Alloy
Color: Pearl Nickel
Chip: Original OEM Chips
Support: For WinXP/7/8/10, Linux2.4.X, for Mac OS 9.X or higher version
Capacity: Please select
Size: about 57 x 17 x 10mm
Weight: 12g
Package Includes:
1x EAGET F60 USB 3.0 High Speed USB Flash Drive (please select storage size)